Days and Months in Spanish
Spanish Vocabulary
Los días de la semana - The days of the week
Notice that the days of the week in Spanish do not begin with a capital letter.
lunes - Monday
martes - Tuesday
miércoles - Wednesday
jueves - Thursday
viernes - Friday
sábado - Saturday
domingo - Sunday
El fin de semana (the weekend) includes the days sábado and domingo.
A día feriado is a public holiday or a day without work or school. It is usually because of a special date in that country like the National Day (Día nacional) or the First day of the year.
The days of the week in Spanish are Masculine so we say:
el lunes, el martes, el míercoles, el jueves, el viernes, el sábado, el domingo.
Note however that when we talk about the days in plural, as in Mondays or Fridays, only sábado and domingo have an S added in plural form.
los lunes, los martes, los míercoles, los jueves, los viernes, los sábados, los domingos.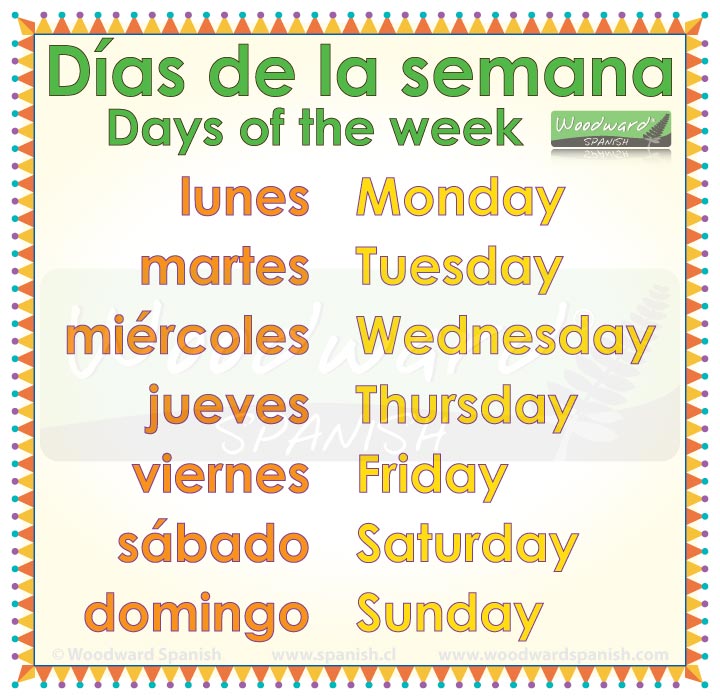 Los meses del año - The months of the year
Notice that the months of the year in Spanish do not begin with a capital letter.
enero - January
febrero - February
marzo - March
abril - April
mayo - May
junio - June
julio - July
agosto - August
septiembre - September
octubre - October
noviembre - November
diciembre - December
Next Activities
GAMES: Try our interactive vocabulary games to practice: Days - Game 1 and Days Game 2. We have another game where you need to translate the word from English, to its correct word in Spanish: English to Spanish Translation Game
There is also a game about the Months in Spanish.
NOTES: You may want to check out our notes in Spanish about Los días y los meses en español.
Teacher/Parent Resources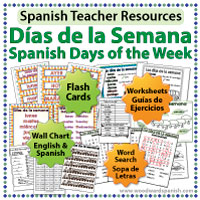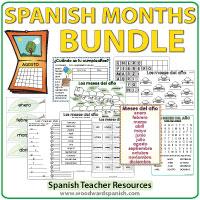 If you found this Spanish Vocabulary about Days and Months useful, let others know about it: