GUSTAR
Spanish Grammar Rules
Gustar is a verb that confuses many English speakers at the beginning. Gustar is used to say like in Spanish. But unfortunately the conjugation rules (the way you change the verb) are a little different from normal verbs.
In English you would say I LIKE but in Spanish you would NOT say yo gusto (incorrect).
In Spanish you would say ME GUSTA or ME GUSTAN.
Me gusta la playa (I like the beach)
Me gusta el perro (I like the dog)
Me gustan los perros (I like dogs)
Me gusta cantar (I like to sing)
Why is this? Because instead of directly meaning like, it actually means that something is pleasing for you.
When do you use Gusta or Gustan?
Knowing whether to use Gusta or Gustan depends on the words that come after it (the things that you like).
If you want to say that you like doing something, then you use Gusta + Infinitive (verb)
A mí me gusta bailar (= I like to dance)
A nosotros nos gusta cocinar (= We like to cook)
A ellos les gusta ir al cine (= They like to go to the movies/cinema)
BUT when we talk about liking things, then we use GUSTA if that thing is in singular form
A mí me gusta el fútbol (= I like football/soccer)
A nosotros nos gusta la película (= We like the movie)
A ellos les gusta la canción (= They like the song)
We use GUSTAN if we like something that is in plural form
A mí me gustan los libros (= I like books)
A nosotros nos gustan las películas de terror (= We like horror movies)
A ellos les gustan las canciones (= They like the songs)
A mí, A tí, A él...
You will notice that many times we have the prepositional phrase A + mí (or tí etc.) before the me gusta (o te gusta etc.). This is sometimes used to give more emphasis about the person who is liking the thing but also to clarify when they may be a doubt about who that person is.
For example if we say Le gusta comer, we don't know if the person who likes to eat is a man, a woman or even you. So to clarify we had the prepositional phrase A + él (or ella, usted). Compare the difference:
A él le gusta comer (= he likes to eat)
A ella le gusta comer (= she likes to eat)
A usted le gusta comer (= you like to eat)
Negative Sentences using GUSTAR
Making a negative sentence with the verb gustar is simple. You just add NO between the prepositional phrase A + mí (or tí etc.) and the Indirect Object Pronoun (me, te, le etc.)
Affirmative: A mí me gustan los gatos. (= I like cats)
Negative: A mí no me gustan los gatos. (= I don't like cats)
Affirmative: A ella le gusta cantar. (= She likes to sing)
Negative: A ella no le gusta cantar. (= She doesn't like to sing)
Gustar Summary chart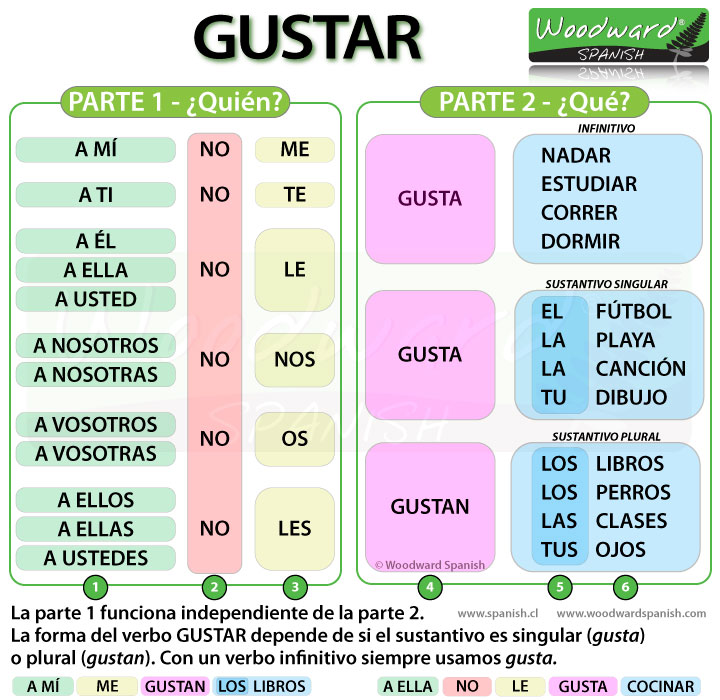 Other verbs like Gustar
There are other verbs that use the same formula as Gustar. These include the verbs: doler, encantar, faltar, interesar, molestar, quedar (and others)
Me duelen los pies. (= My feet are sore)
A ella le encanta dormir hasta tarde (She likes sleeping until late)
Nos faltan tres cajas (= We are missing three boxes)
¿Te interesan los libros? (= Are you interested in books?)
Next Activities
Try our interactive game about Gusta vs Gustan and Indirecto Object Pronoun + Gustar
Spanish Teachers and Parents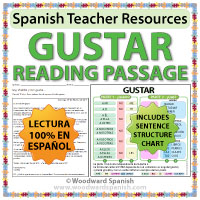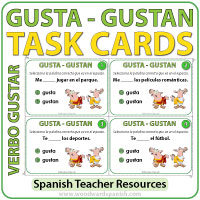 If you found this grammar guide about the Spanish Verb GUSTAR interesting or useful, let others know about it: